In the year 2020, Raksha Bandhan (Rakhi) will be celebrated on 3 August 2020 (Monday)
As per the Central Government notification, the day on Raksha Bandhan has declared as under Restricted Holiday.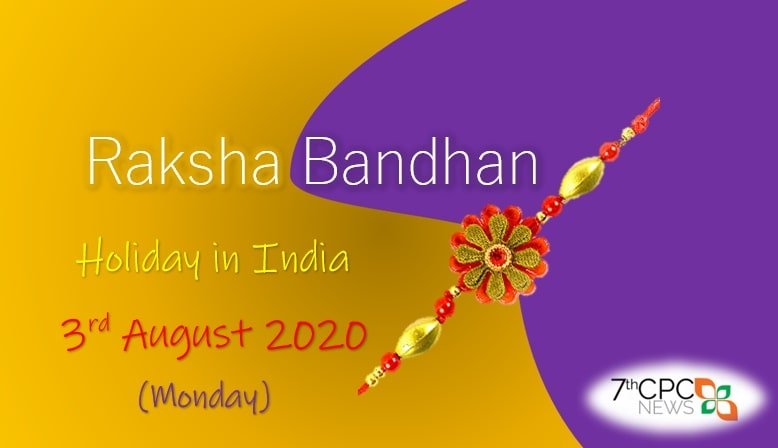 Raksha Bandhan 2020 Date in India Calendar
One of the relationships religious festivals celebrating in Indian is very familiar.
Raksha Bandhan tyohar or festival is an Indian festival that celebrates the bond of care and guardianship between siblings, for being there for each other through thick and thin. On this special day, sisters tie rakhi, which is a fancy thread, on the brothers' wrists and in return brothers give presents to sisters. This is the typical Raksha Bandhan tradition and hence it is also known as Rakhi ka tyohar. The literal meaning of Raksha Bandhan is dissected as – "Raksha" means safety and "Bandhan" means tie or bond. The festival of Rakhi is also celebrated in countries that are influenced by Hinduism and where many NRIs live, like in Nepal and the UK.
Stay connected with us on our
Whatsapp Channel,
to receive the most up-to-date news and updates.
Traditional History of Raksha Bandhan
The history of Raksha Bandhan can be found in various glorious instances from the past. The most popular belief is from the magnificent epic Mahabharata, when Draupadi tears her exorbitantly valued saree to stop the bleeding from Lord Krishna's hand, after killing the evil king Sishupal. Another familiar instance is when the Empress of Chittor, Karnavati sent a rakhi to Mughal Emperor Humayun to protect her throne from the attack of Bahadur Shah of Gujarat. Humayun accepting the rakhi, got her back!

Importance of Raksha Bandhan – Raksha Bandhan ka mahatva
Raksha Bandhan is a significant ceremony since the importance of family and siblings is highly valued and celebrated in Indian culture. Brothers and sisters are there for each other even when the world ends. It is not restricted just to family but also celebrated with people whom they wish to protect. There are several stories in Indian mythology that highlights the love and protection that an elder sibling gives to the younger.
In Tamil Nadu, the State Government has not declared a holiday on Raksha Bhandan.