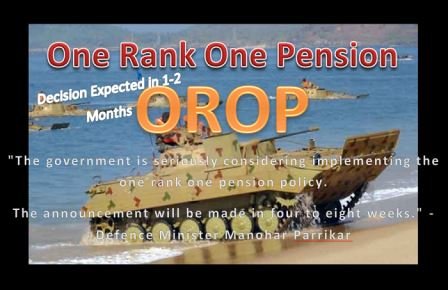 Much to the relief of nearly 25 lakh ex-servicemen, including 12 lakh soldiers who are protecting this sovereign nation, the final decision on the One Rank One Pension demand will be announced in a month or two.
According to reliable sources of information, Defence Minister Manohar Parikkar has given the assurance and that steps in this regard have already been taken.
The fact that the Ministry is working overtime to enforce this scheme has brought cheers to serving armymen all over the country. They can rest assured that the scheme, which was being talked about for a number of years, will finally be implemented this time.
The Sixth Pay Commission had recommended fitment formula and modified parity for past pensioners, in order to reduce the gaps, which were accepted by the Government.
For example, a Sepoy, who retired prior to 1996, gets 82% lower pension than a Sepoy who retires after 2006. Similarly, among officers, a pre-1996 Major gets 53% lower pension than his post 2006 counterpart".
OROP means that every pension-eligible soldier who retires in a particular rank deserves the same pension, irrespective of date of retirement. Currently, soldiers who left the armed forces more recently receive more than those who did earlier, because successive pay commissions hiked salaries.
During his Parliamentary speech, the then Finance Minister Pranabh Mukherjee announced that the scheme would be implemented in July 2009. It was announced that the Government was going to implement the recommendations made by the high level committee led by KM Chandraskehar. The scheme was discussed a number of times, but was never implemented.
With an allocation of Rs. 1000 Crores, while there is pressure to implement the scheme, the government also has to keep in mind the lakhs of former servicemen.
The new Government's stand in this issue will become clear in another few months.