After releasing the press release of All Indian Consumer Price Index (AICPIN) for the month of June 2020, the statistics data of CPI is increased by two points from its existing level and has remained at 332. Accordingly, the calculation of Dearness Allowance (DA) for bank employees and officers for the months of August, September, and October 2020 will be increased by 14 slabs.
Revision in Dearness Allowance for the quarter of August 2020 to October 2020
All India Bank Officers' Confederation
(Registered under the Trade Unions Act 1926, Registration No.3427/Delhi)
6th Floor, E-Block, Samriddhi Bhavan, 1, Strand Road, Kolkata -700 001
c/o State Bank of India Officers' Association (Bengal Circle)
Phone: 2210- 1234, Fax: (033) 2210- 2210
Circular No. 2020/57
Date: 31.07.2020
Stay connected with us on our
Whatsapp Channel,
to receive the most up-to-date news and updates.
To All Affiliates (Please Circulate)
DEARNESS ALLOWANCE
The Index Numbers for the quarter ended June 2020 are as under: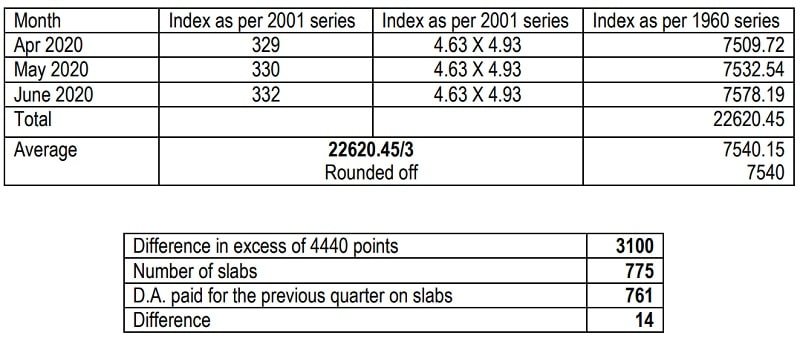 Accordingly, Dearness Allowance is payable to Officers on 775 (i.e. 761+14) slabs with effect from 01¬08-2020 as against 761 slabs for the previous quarter. The rates of Dearness Allowance at various stages of basic pay are furnished overleaf. The rates worked out are as per the industry level scales up to Scale VII including SBI.
With greetings,
Yours comradely,
sd/-
(Soumya Datta)
General Secretary
Click to view the AIBOC Circular