Lohri 2024: Date, Time, Story, Celebration and Significance
Lohri is a popular festival celebrated in the northern regions of India, particularly in the states of Punjab, Haryana, and Himachal Pradesh. It marks the end of winter and the arrival of longer days as the sun begins its journey towards the northern hemisphere. Lohri is primarily associated with agricultural prosperity and is celebrated with great enthusiasm and fervor. This article delves into the significance of Lohri and explores the various customs and traditions associated with this vibrant festival.
Lohri 2024 Date in India: 13th January, Saturday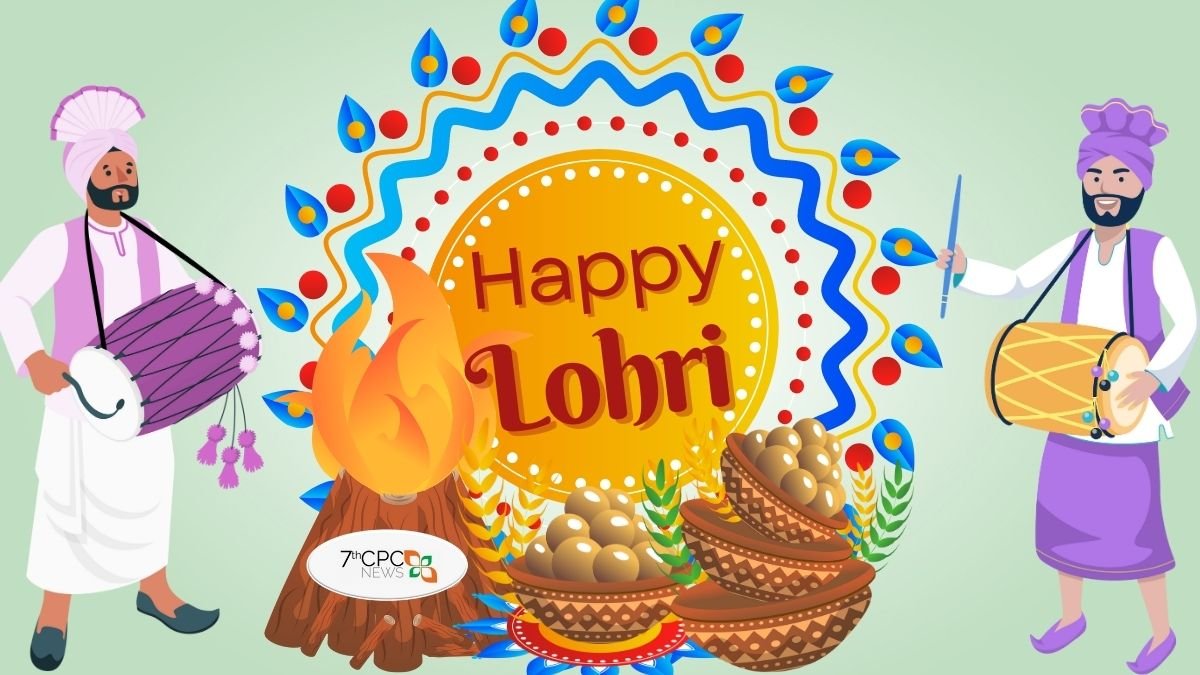 Lohri 2024 Overview
| | |
| --- | --- |
| Festival Name | Lohri |
| Also Known as | Lal Loi |
| Observed by | Punjabis, Dogras, Haryanvi, and Himachalis of North India |
| Type | Religious, cultural, seasonal |
| Significance | Midwinter festival, celebration of winter solstice |
| Celebrations | Bonfire, song (Bhangra and Giddha) |
| Holiday Type | Restricted Holiday |
Lohri, a cherished winter festival deeply rooted in Punjabi folklore, has become a beloved tradition in Northern India. The festival holds immense significance and is intertwined with captivating legends that connect it to the vibrant Punjab region. Many believe that Lohri symbolizes the transition from the winter solstice to the arrival of spring. This joyous occasion marks the end of winter, welcoming longer days and the sun's journey to the northern hemisphere for the people residing in the northern region of the Indian subcontinent. Lohri is observed on the eve of Maghi, as per the solar portion of the lunisolar Punjabi calendar, and consistently falls on the 13th of January.
Notably, Lohri is officially recognized as a holiday in Punjab, Jammu, and Himachal Pradesh. While the festival is celebrated with great enthusiasm in Delhi and Haryana, it does not hold the status of a gazetted holiday. Regardless, Sikhs, Hindus, and individuals from all walks of life partake in the festivities in these regions. In Punjab, Pakistan, although Lohri is not observed on an official level, rural areas and cities like Faisalabad and Lahore witness celebrations by Sikhs, Hindus, and some Muslims. Muhammad Tariq, the former director of Faisalabad Arts Council, emphasizes the importance of keeping this cherished festival alive due to its significance in both Pakistani and Indian Punjab.
Lohri 2024 India Calendar
Celebrate Lohri 2024 with this special India Calendar; featuring a unique design for each month and special cultural highlights. Lohri, a festival deeply intertwined with the vibrant Punjabi calendar, joyously unfolds itself on the eve of Maghi. Embracing the month of Poh, this festive occasion finds its place amidst the celestial dance of the Punjabi lunisolar calendar, often gracing us with its presence around the 13th of January in accordance with the Gregorian calendar.
| | | | | | | |
| --- | --- | --- | --- | --- | --- | --- |
| Mon | Tue | Wed | Thur | Fri | Sat | Sun |
| 01 | 02 | 03 | 04 | 05 | 06 | 07 |
| 08 | 09 | 10 | 11 | 12 | 13 | 14 |
| 15 | 16 | 17 | 18 | 19 | 20 | 21 |
| 22 | 23 | 24 | 25 | 26 | 27 | 28 |
| 29 | 30 | 31 |   |   |   |   |
History of Lohri Festival
The mention of Lohri can be traced back to the Lahore darbar of Maharaja Ranjit Singh, as observed by European visitors like Wade who had the opportunity to visit the Maharaja in 1832. In 1836, Captain Mackeson recounted how Maharaja Ranjit Singh distributed suits of clothes and substantial amounts of money as rewards during the festivities of Lohri. The royal court also noted the tradition of lighting a massive bonfire during Lohri night in 1844.
Although the historical accounts from the royal circles fail to provide insights into the origins of the festival, there exists a plethora of folklore surrounding Lohri. This celebration signifies the arrival of longer days following the winter solstice. It is believed that in ancient times, Lohri was celebrated at the culmination of the traditional month coinciding with the winter solstice. The festival rejoices in the lengthening of days as the sun embarks on its northward journey. Makar Sankranti, the day following Lohri, is also celebrated.
Lohri is an age-old mid-winter festival that originated in regions near the majestic Himalayan mountains, where winters are more severe compared to the rest of the subcontinent. Hindus and Sikhs traditionally illuminated bonfires in their yards after completing the agricultural work of the Rabi season. As they gathered around the fire, they engaged in socializing, singing, and dancing, symbolizing the end of winter and welcoming the advent of longer days.
Interestingly, instead of observing Lohri on the eve of the actual winter solstice, Punjabis celebrate it on the final day of the month that encompasses this celestial event. Lohri serves as a commemoration of the passing of the winter solstice.
When is Lohri 2024 in India?
| | |
| --- | --- |
| Lohri 2023 Date | Saturday, 14 January |
| Lohri 2024 Date | Saturday, 13 January |
| Lohri 2025 Date | Monday, 13 January |
| Lohri 2026 Date | Tuesday, 13 January |
| Lohri 2027 Date | Thursday, 14 January |
Lohri 2024 Time in India
Mark your calendars for the glorious day of Lohri, which will take place on the blessed Sunday of January 14, 2024. As darkness engulfs the night, prepare to welcome the auspicious Lohri Sankranti moment at precisely 02:54 AM on January 15.
Significance of Lohri Festival
Lohri, an ancient festival celebrated during the winter crop season, holds great significance and is deeply rooted in the Punjab region. It is steeped in folklore, particularly the tale of Dulla Bhatti, a revered figure in Punjab. Dulla Bhatti was the son of a wealthy landowner during the reign of Mughal Emperor Akbar. He earned a heroic reputation for his courageous acts of rescuing Punjabi girls from being forcibly sold into slavery in the Middle East.
Among the girls saved by Dulla Bhatti were Sundri and Mundri, whose stories gradually became woven into the fabric of Punjab's folklore. During Lohri celebrations, children joyfully visit homes, singing traditional folk songs that pay tribute to Dulla Bhatti. These songs are accompanied by spirited chants of "Ho!" at the end of each line, sung in unison by the young troupe. Upon the conclusion of the song, it is customary for the adult of the household to offer snacks and monetary rewards to the enthusiastic singers.
Furthermore, Lohri signals the commencement of the harvest season and the arrival of sunny days. It is a time of anticipation and celebration, as people gather together to express gratitude for the bountiful crops and offer prayers for a prosperous year ahead.
Celebrations of Lohri Festival
The festival is joyously embraced through the illumination of bonfires, indulging in delectable festive delicacies, engaging in lively dances, and exchanging heartfelt gifts. In households where marriages or births have occurred recently, the fervor of Lohri celebrations reaches unparalleled heights. Typically, individuals hailing from Northern India prefer to commemorate Lohri within the intimate confines of their own homes. Elaborate Lohri rituals are performed, accompanied by melodious renditions of specially crafted Lohri songs.
Singing and dancing are deeply ingrained in these jubilant festivities. People adorn themselves in their most vibrant attire and gather together, swaying to the rhythmic beats of the dhol while exuberantly performing the bhangra and gidda dances. The air resonates with the melodies of Punjabi songs, igniting a collective sense of joy and merriment. The quintessential Lohri dinner typically features sarson da saag and makki di roti as the centerpiece. While Lohri holds immense significance for farmers, urban dwellers also partake in its celebrations, as it provides a precious opportunity to reconnect with loved ones and forge lasting memories.
Happy Lohri 2024 Wishes Quotes
Warmest greetings and hugs to you and your family on the glorious occasion of Lohri. Let us pray for happiness, prosperity and growth in life. Wishing you a bright Lohri and fun celebrations.
May the festival of harvest brighten your life with good health and success. May you be blessed with soaring happiness and flourishing business. Happy Lohri dearest friend.
I hope that your lohri gets merrier and happier with lots of fun, joy, dance and music. May there be lots of celebrations and dhamaka on this occasion. Wishing a rocking Happy Lohri my friend.
On the occasion of this vibrant festival, I hope that you connect with your family, friends and relatives to have the most memorable and awesome celebrations on Lohri.
Foods to Eat on Lohri Festival
Lohri, a joyous festival, is celebrated with the indulgence of several delectable traditional delicacies. Amongst these delightful treats, you can find sarson ka saag, makki ki roti, gajak, til-gur laddoos, gajrela, popcorns, peanuts, rewri, and gur. These culinary delights not only tantalize the taste buds but also hold great cultural significance during this festive occasion.
Sarson ka saag, a classic Punjabi dish, is meticulously prepared using mustard leaves and an array of aromatic spices. It is customarily relished with makki ki roti, a scrumptious flatbread crafted from corn flour.
Gajak, a delectable brittle, is lovingly made by combining sesame seeds, jaggery, and peanuts, resulting in a crunchy and flavorsome treat.
Til-gur laddoos are sumptuous sweet spheres that perfectly blend sesame seeds, jaggery, and peanuts, creating a delightful combination of textures and flavors.
Gajrela, a sweet delicacy, is skillfully cooked with carrots, milk, and sugar, resulting in a luscious dessert that captivates the taste buds.
Popcorns, a beloved snack cherished by all, take center stage during the celebrations. These crispy delights are served with an assortment of delectable toppings that add an extra layer of flavor.
Peanuts, another crowd-favorite snack, are enjoyed in their roasted or boiled form, providing a delightful crunch and nutty flavor.
Rewri, a tempting sweet treat, is expertly crafted by blending jaggery and sesame seeds into a delightful confection that satisfies the sweet tooth.
Lastly, gur, or jaggery, plays an indispensable role in the festivities, appearing in various forms and adding its distinctive sweetness to the celebrations.
What is Lohri 2024?
Lohri 2024 is a festival celebrated in India on 13th January, Saturday.
What is the significance of Lohri?
Lohri is an important religious and cultural festival celebrated in India. It marks the end of the winter solstice and is considered to be a celebration of good harvest and new beginnings.
What activities are associated with Lohri?
Celebrations typically include singing and dancing around a bonfire, exchanging gifts, and feasting on traditional dishes such as sarson ka saag and makki di roti.
Are there any religious ceremonies associated with Lohri?
Yes, some communities perform religious ceremonies during Lohri. These ceremonies typically involve worshipping the sun and offering prayers for good luck and prosperity.