76th or 77th Independence Day? Read on to get it cleared
India's independence day is a day of celebration and remembrance as India gained its freedom from British rule on August 15th, 1947. This marks the end of a 200-year-long oppressive period for the Indian people. Every year, on August 15th, India celebrates this holiday as a way to honour the brave and selfless sacrifices of thousands of patriots who fought for India's independence. The first independence day was celebrated on August 15th, 1947, and it was a significant day in history as it marked the first time the Indian national flag was raised in an independent India. As India approaches its 76th independence day, we remember those who fought for our freedom and celebrate the strides India has made since gaining independence.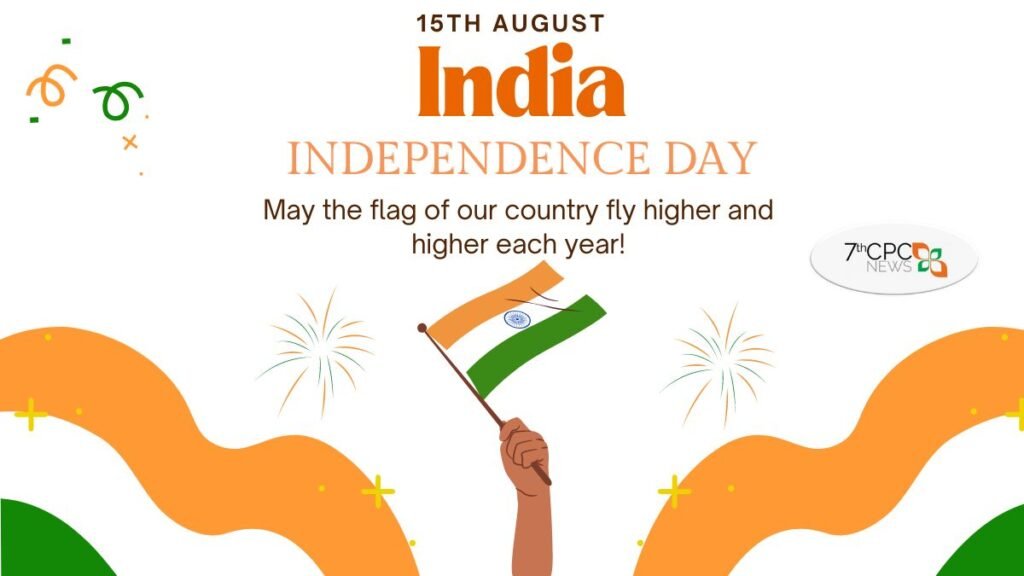 Independence Day 2023 Date in India: 15th August, Tuesday
Independence Day 2023 Overview
| | |
| --- | --- |
| Festival Name | Independence Day |
| Celebrated by | India |
| Type | Public |
| Significance | Commemorates the independence of India |
| Celebrations | Flag hoisting, parade, fireworks, singing patriotic songs and the National Anthem Jana Gana Mana, speech by the Prime Minister of India and President of India |
| Date | 15th August Every Year |
| Holiday Type | National Holiday |
Independence Day 2023 India Calendar
Celebrate Independence Day 2023 with this unique India Calendar! Featuring traditional artwork and vibrant colors, it's the perfect way to commemorate this momentous occasion.
| | | | | | | |
| --- | --- | --- | --- | --- | --- | --- |
| Mon | Tue | Wed | Thur | Fri | Sat | Sun |
|   | 1 | 2 | 3 | 4 | 5 | 6 |
| 7 | 8 | 9 | 10 | 11 | 12 | 13 |
| 14 | 15 | 16 | 17 | 18 | 19 | 20 |
| 21 | 22 | 23 | 24 | 25 | 26 | 27 |
| 28 | 29 | 30 | 31 |   |   |   |
The Indian Independence Act 1947
The Indian Independence Act of 1947 brought about a pivotal moment in the history of the Indian subcontinent. It effectively created two new states, India and Pakistan, by transferring legislative sovereignty from the British Government to the Indian constituent assembly. Although the name of the Act suggests that it was formulated by India, it was actually passed by the parliament of the United Kingdom and received Royal assent on July 18, 1947. The Act paved the way for the partition of Bengal and Punjab and established the offices of the Governor-General in India and Pakistan as representatives of the British Government. Additionally, it granted complete legislative authority to both nations and gave princely states the option to join either India or Pakistan. However, it was eventually repealed on January 26, 1950, when the Constitution of India took over.
Independence Day 2023 Wishes
Freedom cannot be bought by money. We earned ours through years of struggle against the British Raj. Let us remember all those who fought for our country. Jai Hind!
A big salute to all the soldiers who sacrificed their lives for our independence! Jai Hind!
"Remembering our past is extremely important. But we also have to think about building our future. Let's do everything to keep our freedom and carry it through the years. Happy Independence Day!"
"Never allow the evening of independence, the sacrifice of martyrs will not be discredited. Till even one drop of blood remains, India will not allow the mother's auctions to be auctioned. Happy Independence Day"
"Freedom doesn't see colours or shapes. There is enough hate and violence in the world, and now we need to build a better future, full of love, unity and understanding. Here's to a wonderful Independence Day!"
How is Independence Day Celebrated?
The celebration of Independence Day is a grand affair in India. The preparations begin days before the 15th of August, and it is hard to miss the buzz that surrounds the day. The national colors adorn government offices, buildings, and landmarks, while shops are stocked with tricolor clothes, flags, souvenirs, and other items used in decorating the streets and homes.
On this day, the national flag is the center of attention. Patriotic songs can be heard everywhere – from metro stations to schools, government offices, and even homes. It is a day marked with a whirlwind of activities, including the screening of patriotic films and documentaries on almost all TV channels.
There are several practices worth observing on Independence Day. The incumbent prime minister receives a 21-gun salute from the Indian armed forces at the Red Fort and hoists the tricolor. The highlight moment of the day is the independence day parade, where all three armed forces display their abilities and capabilities. The prime minister addresses the nation, highlighting the country's journey since independence and its future roadmap.
Political leaders are invited to different flag-hoisting events, where they inspire the gathering on the feeling of nationhood. Chief ministers of states, governors, leaders of the opposition, MPs, MLAs, and other people of influence address the public on Independence Day.
Since it is a national holiday, people spend Independence Day with their families. Most are excited about watching the independence day parade on Doordarshan followed by a spree of patriotic movies. It is a day that brings everyone together in celebration of India's independence.
When is Independence Day in 2023?
The 15th of August is a significant day in India as it marks the celebration of Independence Day. This day is observed as a public holiday, where all private offices, shops, schools, and Government offices remain closed as a show of respect for the national holiday. Every year on this day, the Prime Minister unfurls the Tricolor from the historic Red Fort, which is a symbolic gesture that signifies the start of Independence Day celebrations across the country.
| | |
| --- | --- |
| Independence Day 2022 Date | Monday, Aug 15 |
| Independence Day 2023 Date | Tuesday, Aug 15 |
| Independence Day 2024 Date | Thursday, Aug 15 |
| Independence Day 2025 Date | Friday, Aug 15 |
| Independence Day 2026 Date | Saturday, Aug 15 |
| Independence Day 2027 Date | Sunday, Aug 15 |
| Independence Day 2028 Date | Tuesday, Aug 15 |
Why is Independence Day Celebrated?
Every year on August 15th, India observes its Independence Day. This day is a time to celebrate the country's true freedom and independence, which came after many years of struggle against colonialism. It is a day to pay our respects to the brave freedom fighters who fought for India's sovereignty and sacrificed their lives so that we can enjoy the freedom and rights we have today.
Independence Day marks the end of British colonial rule in India, which lasted for over two centuries. It is a national event that brings people together to celebrate their shared history and identity as Indians. This day fills every citizen of the country with a sense of pride and patriotism. It reminds us of the sacrifices made by our ancestors to secure our future as a free and independent nation.
What is the difference between 15th August and 26th January flag hoisting?
While both Republic Day and Independence Day see the hoisting of the tricolour, there is a distinct contrast between the two. Republic Day, celebrated on the 26th of January, entails the President of India raising the flag. However, come the 15th of August for Independence Day, it is the prime minister who takes up this duty.
Where to observe the best independence day celebration?
While merriments are acknowledged across the country, joining in the festivities at Red Fort is an experience like no other. In case you can't make it, fret not, as the official broadcaster Doordarshan telecasts the entire event live, so you can catch it on your TV sets or smartphones. Additionally, there are other celebrations worth mentioning, such as those held at Wagah Border, National War Memorial, and Gandhi Smriti Museum, among others.
Is there a National holiday on independence day?
Absolutely! Independence Day is a holiday that's celebrated all across the nation. Every state and union territory recognizes this special day, making it a truly nationwide event. This momentous occasion is one of three national holidays that are observed throughout the year, along with Republic Day and Gandhi Jayanti.
Is it the 75th or 76th independence day in 2023?
In 2023, we shall commemorate the 76th anniversary of our independence. The previous year, on the 15th of August 2022, we marked the 75th independence day with a theme that embodied our nation's spirit – First, Always First.
Why is 15th August celebrated as Independence day?
On the momentous day of August 15th, 1947, India triumphantly gained independence from the oppressive reign of the British Empire, which had persisted for a daunting two centuries. Henceforth, each year, the 15th of August is exuberantly commemorated as Independence Day.