Baisakhi 2024: Date, Significance of Vaisakhi, Sikh New Year, Harvest Festival
The upcoming arrival of Baisakhi, a revered festival in the Sikh faith, fills the hearts of devotees with deep reverence and admiration. Revered as 'Vaisakhi' or 'Basoa', this auspicious occasion is joyously commemorated on the initial day of the Vaisakh month, typically falling on the 13th or 14th of April. Embraced mainly in Northern India, this festive occasion symbolizes the advent of the bountiful spring harvest season. With unbridled enthusiasm and unwavering devotion, people throughout the nation exuberantly partake in the jubilant festivities of Baisakhi.
Vaisakhi 2024 Date in India: 13th April, Saturday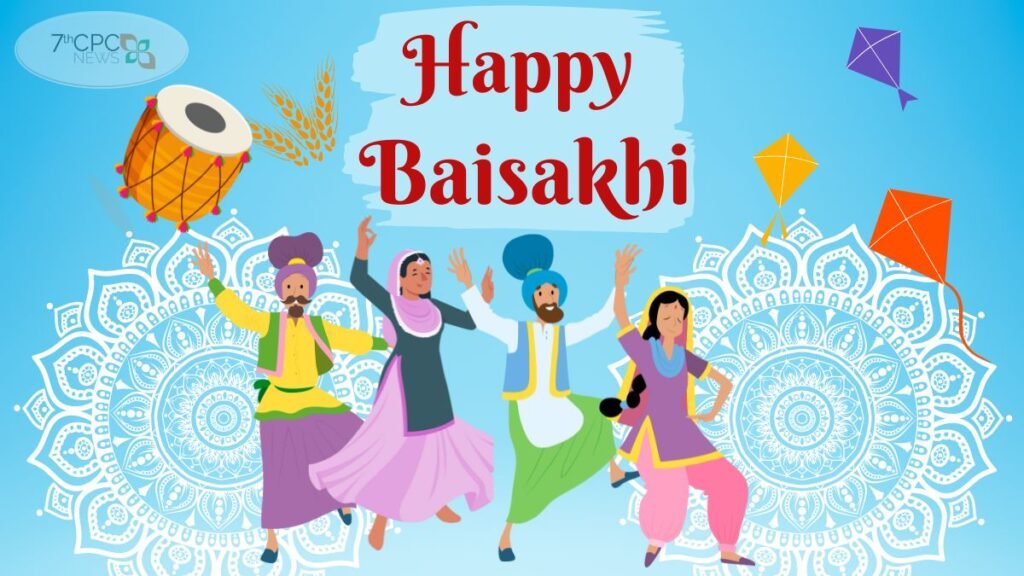 Vaisakhi 2024 Overview
| | |
| --- | --- |
| Festival Name | Vaisakhi |
| Also Known as | Baisakhi, Vaisakha Jayanti, Visakhi |
| Observed by | Sikhs, Dogras, Punjabi Hindus, Punjabi Muslims |
| Type | Religious and harvest festival |
| Significance | Birth of the Khalsa, Solar New Year, Harvest Festival, Initiation of Dogra/Shastri Calendar |
| Celebrations | Fairs, processions and temple decorations |
| Observances | Religious gatherings and practices |
| Holiday Type | Restricted Holiday |
Vaisakhi 2024 India Calendar
Celebrate Vaisakhi 2024 with this special India Calendar; featuring a unique design for each month and special cultural highlights.
| | | | | | | |
| --- | --- | --- | --- | --- | --- | --- |
| Mon | Tue | Wed | Thur | Fri | Sat | Sun |
| 01 | 02 | 03 | 04 | 05 | 06 | 07 |
| 08 | 09 | 10 | 11 | 12 | 13 | 14 |
| 15 | 16 | 17 | 18 | 19 | 20 | 21 |
| 22 | 23 | 24 | 25 | 26 | 27 | 28 |
| 29 | 30 |   |   |   |   |   |
When is Vaisakhi in India 2024?
| | |
| --- | --- |
| Vaisakhi 2023 Date | Friday, 14 April |
| Vaisakhi 2024 Date | Saturday, 13 April |
| Vaisakhi 2025 Date | Monday, 14 April |
| Vaisakhi 2026 Date | Tuesday, 14 April |
| Vaisakhi 2027 Date | Wednesday, 14 April |
| Vaisakhi 2028 Date | Thursday, 13 April |
Vaisakhi 2024 Time in India
Vaisakhi, also known as Baisakhi, is an important festival celebrated in India. In the year 2024, Vaisakhi falls on Saturday, April 13. The auspicious moment of Vaishakhi Sankranti is at 09:15 PM, marking the transition of the sun into the zodiac sign of Mesha (Aries). This festival holds great significance for the Sikh community as it commemorates the formation of the Khalsa in 1699 by Guru Gobind Singh. It is a time of joyous celebrations, with vibrant processions, religious ceremonies, and cultural performances taking place throughout the country. People come together to offer prayers, share meals, and engage in acts of charity. The streets are adorned with colorful decorations, and traditional music and dance fill the air, creating a festive atmosphere. Vaisakhi is not only a time to celebrate the harvest season but also a time to reflect on the importance of unity, equality, and spiritual growth.
Significance of Vaisakhi Festival
Vaisakhi has its roots in ancient times when agriculture was the primary occupation in the Indian subcontinent. The festival marks the arrival of the harvest season, a time of abundance and prosperity. Farmers express gratitude to God for a bountiful harvest and pray for future success.
However, Vaisakhi gained even greater significance in 1699 when Guru Gobind Singh, the tenth Sikh Guru, established the Khalsa Panth. On this day, Guru Gobind Singh called upon Sikhs to gather at Anandpur Sahib, where he initiated the first five members of the Khalsa. This marked a turning point in Sikh history, as it established a distinct identity for the community and emphasized the principles of equality, justice, and bravery.
Celebration of Vaisakhi Festival
Vaisakhi is celebrated with great enthusiasm and fervor by Sikhs worldwide. The festivities typically begin with an early morning visit to the Gurdwara, the Sikh place of worship. Sikhs gather to offer prayers and listen to hymns from the Guru Granth Sahib, the holy scripture of Sikhism. The atmosphere is filled with devotion and spirituality as devotees seek blessings for themselves and their loved ones.
After the religious ceremonies, processions known as Nagar Kirtans take place in various cities and towns. These processions are characterized by vibrant displays of Sikh martial arts, traditional music, and hymn singing. Devotees, both Sikh and non-Sikh, join in the procession, which is led by the Panj Pyare, the five beloved ones who represent the original members of the Khalsa.
The Nagar Kirtan culminates in a grand feast called Langar, where free meals are served to all, regardless of caste, creed, or social status. This practice of communal eating symbolizes equality and inclusivity, two fundamental principles of Sikhism. The Langar is a testament to the Sikh belief in selfless service and the importance of sharing with others.
Vaisakhi Beyond Punjab
While Vaisakhi is deeply rooted in Punjabi culture and traditions, its significance extends far beyond the borders of Punjab. Sikhs living in different parts of the world come together to celebrate this auspicious occasion. In countries like Canada, the United Kingdom, and the United States, where Sikh communities have a strong presence, Vaisakhi processions and festivities are held on a large scale.
These celebrations not only provide an opportunity for Sikhs to connect with their cultural heritage but also serve as a means to educate others about Sikhism. Through open-air exhibitions, cultural performances, and interactive sessions, non-Sikhs gain a deeper understanding of the faith and its values.
Vaisakhi: A Time for Reflection and Renewal
Vaisakhi is not only a time for celebration but also a time for reflection and renewal. Sikhs use this occasion to introspect on their spiritual journey and recommit themselves to the teachings of Guru Nanak, the founder of Sikhism. It is a time to reflect on the values of compassion, humility, and selflessness that lie at the core of Sikh philosophy.
Moreover, Vaisakhi serves as a reminder for Sikhs to stand up against injustice and inequality. The festival holds particular significance in the context of Sikh history, as it was during Vaisakhi that Guru Gobind Singh called upon Sikhs to take up arms to defend the oppressed. This message of courage and resilience resonates with Sikhs today, inspiring them to work towards a more just and inclusive society.
Happy Baisakhi Wishes 2024
Happy Baisakhi 2024: Wishes Images, Quotes, Photos, Pics, Facebook SMS and Messages to share with your loved ones.
My heartiest wishes to you and your family on the glorious occasion of Vaisakhi.
May this be the beginning of a lucky year ahead! May god shower you with endless blessing, love and happiness. This festival brings you the best growth. Happy Baisakhi!
May divine blessings shower on you and bring new hope, new joy and cheer. I convey my warm greetings and best wishes to all on this joyous Vaisakhi.
No more sad faces, no more tears, Baisakhi spread everywhere only cheer. Happy Baisakhi 2024
On this Baisakhi, let us pray it will be a year with new peace, new happiness, and an abundance of new friends. Happy Baisakhi.
What is Baisakhi celebrated for?
Vaisakhi is a harvest festival in Punjab, India that has been celebrated for a long time. In 1699, Guru Gobind Singh used this festival to establish the Khalsa, the collective name for baptized Sikhs.
Why Baisakhi is on 14 April this year?
Baisakhi is typically celebrated on 13 April, but falls on 14 April once every 36 years. Since 2003, the Sikh Gurdwara Prabhandak Committee has named the month in which Vaisakhi falls as Vaisakh according to the Nanakshahi calendar.
Is Baisakhi Punjabi New Year?
Baisakhi is a significant festival for the Sikh community, marking the start of the new year and also known as the solar new year. It is celebrated with enthusiasm and joy by Sikh people in various regions.
Is Vaisakhi on the 13th or 14th?
Vaisakhi is a spring harvest festival celebrated by Hindus and Sikhs on April 13th or 14th.