All Central Government employees including Railways and Armed Forces Personnel are paid House Rent Allowance (HRA) as per the recommendations of the 7th pay commission.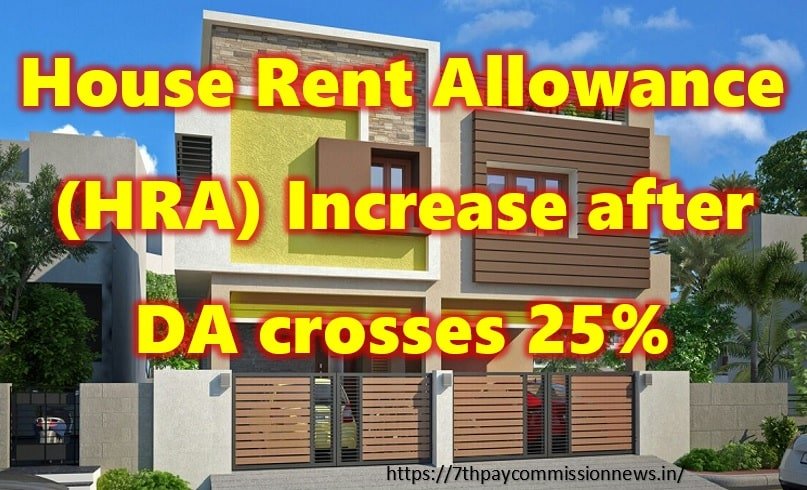 If DA Crosses 25 Percent Hike Allowances
Nobody denies that the House Rent Allowance (HRA) is the major part of the salary element for Government employees. At present, the HRA is paid at the rate of 24%, 16%, and 8% as per the classification of the cities and towns notified by the Fiance Ministry. The Indian cities and towns are classified as per the population as X, Y, and Z cities.
X Class Cities (Above 50 Lakh Population): 24% of Basic Salary
Y Class Cities (5 to 50 Lakh Population): 16% of Basic Salary
Z Class Cities (Below 5 Lakh Population): 8% of Basic Salary
And, one more modification made in the rate of HRA after the recommendations of the Allowance Committee. The minimum rates of HRA had been fixed as Rs. 5400 per month for X category cites, Rs. 3600 per month for Y category cities and Rs. 1800 per month for Z category cities.
Now the DA is increased to 21% (effective from 1st January 2020) from the existing level of 17%. As per our expectation on the DA, the next installment of additional DA will hike by 4%. So, the total DA will become 25%.
The main and important recommendation of 7th pay commission on the revision of HRA is, if the rate of Dearness Allowance (DA) crosses 25%, the rate of House Rent Allowance (HRA) will be revised to 27%, 17% and 9% for X, Y and Z cities and towns respectively.
And also the 7th pay commission has recommended that the rate of HRA shall be further revised to 30%, 20%, and 10% of basic salary in X, Y, and Z cities and towns as per the classification when the DA crosses 50%.
Important Government orders regarding HRA