7th Pay Commission Check Your New Grade Pay Scale and Basic salary
Updated News: 7th Pay Central Pay Commission submitted its report to the Finance Minister and Central Government has issued Gazette Notification on implementation of 7th Pay Commission to all category of Central Government Employees with effect from 1.1.2016.
Standard Pay Scale Table for Central Government Employees as per 7th pay commission with effect from 1st January 2016 as follows:
Pay Matrix Table for all Pay Matrix levels
Expected Pay Scale Table of 7th Pay Commission for CG Employees
We have determined the expected pay scale table of 7th CPC for all groups of Central Government employees. This pay scale is the only prediction, not at all on any confirmation news from the 7th CPC.
The method of calculation of the expected pay scale table is being taken as per the calculation followed in 5th and 6th CPC pay revision methods.
| | | | | |
| --- | --- | --- | --- | --- |
| Pay band | 6th CPC Pay band | 6th CPC GP | 7th CPC Pay Band | 7th CPC GP |
| 1 S-1,2 | 5200-20200 | 1800 | 15,000-60,000 | 5,000 |
| 1 S-3 | 5200-20200 | 1800 | 15,000-60,000 | 5,000 |
| 1 S-4 | 5200-20200 | 1800 | 15,000-60,000 | 5,000 |
| 1 S-5 | 5200-20200 | 1900 | 15,000-60,000 | 5,500 |
| 1 S-6 | 5200-20200 | 2000 | 15,000-60,000 | 6,500 |
| 1 S-7 | 5200-20200 | 2400 | 15,000-60,000 | 7,500 |
| 1 S-8 | 5200-20200 | 2800 | 15,000-60,000 | 8,500 |
| 2 S-9 | 9300-34800 | 4200 | 30,000-1,00,000 | 10,000 |
| 2 S-10 | 9300-34800 | 4200 | 30,000-1,00,000 | 10,000 |
| 2 S-11 | 9300-34800 | 4200 | 30,000-1,00,000 | 10,000 |
| 2 S-12 | 9300-34800 | 4200 | 30,000-1,00,000 | 10,000 |
| 2 S-13 | 9300-34800 | 4600 | 30,000-1,00,000 | 13,500 |
| 2 S-14 | 9300-34800 | 4800 | 30,000-1,00,000 | 15,000 |
| 2 S-15 | 9300-34800 | 5400 | 50,000-1,50,000 | 16,500 |
| New | 15600-39100 | 5400 | 50,000-1,50,000 | 16,500 |
| 3 S-16 | 15600-39100 | 5400 | 50,000-1,50,000 | 16,500 |
| 3 S-17 | 15600-39100 | 5400 | 50,000-1,50,000 | 16,500 |
| 3 S-18 | 15600-39100 | 6600 | 50,000-1,50,000 | 20,000 |
| 3 S-19 | 15600-39100 | 6600 | 50,000-1,50,000 | 20,000 |
| 3 S-20 | 15600-39100 | 6600 | 50,000-1,50,000 | 20,000 |
| 3 S-21 | 15600-39100 | 7600 | 50,000-1,50,000 | 23,000 |
| 3 S-22 | 15600-39100 | 7600 | 50,000-1,50,000 | 23,000 |
| 3 S-23 | 15600-39100 | 7600 | 50,000-1,50,000 | 23,000 |
| 4 S-24 | 37400-67000 | 8700 | 1,00,000-2,00,000 | 26,000 |
| 4 S-25 | 37400-67000 | 8700 | 1,00,000-2,00,000 | 26,000 |
| 4 S-26 | 37400-67000 | 8900 | 1,00,000-2,00,000 | 27,500 |
| 4 S-27 | 37400-67000 | 8900 | 1,00,000-2,00,000 | 27,500 |
| 4 S-28 | 37400-67000 | 10000 | 1,00,000-2,00,000 | 30,000 |
| 4 S-29 | 37400-67000 | 10000 | 1,00,000-2,00,000 | 30,000 |
| 4 S-30 | 37400-67000 | 12000 | 1,00,000-2,00,000 | 30,000 |
Click the below link for 7th CPC Calculator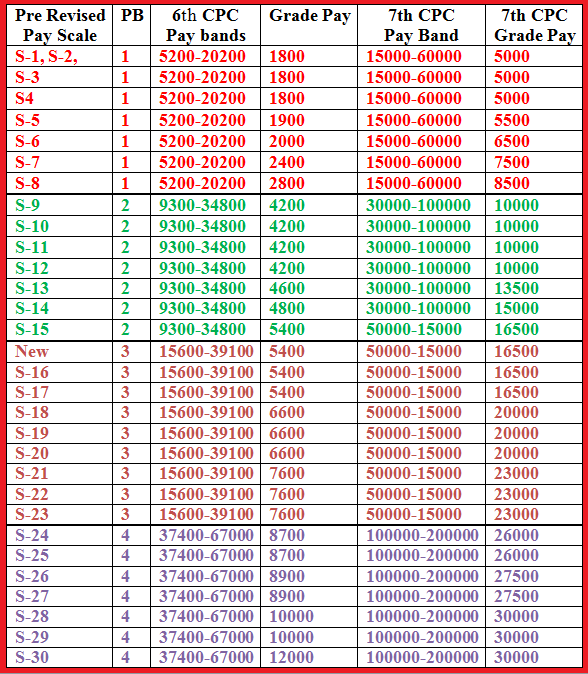 7th Pay Commission Other Topics