When KVS will publish Class 1 Admission Notification for 2020-21?
KVS is ready to publish the admission notification of the current academic year 2020-21 for all Kendriya Vidyalayas. The Ministry of Human Resource Development (MHRD) will give its nod to notify the online admission process soon! The schedule date sheet is expected to release for KVS admission 2020-21 in the third week of June 2020.
Millions of parents are eagerly waiting to enroll their children for admission in Kendriya Vidyalaya schools in India. The official announcement of the admission schedule has not been declared yet, the parents are watching the official website of KVS several times a day!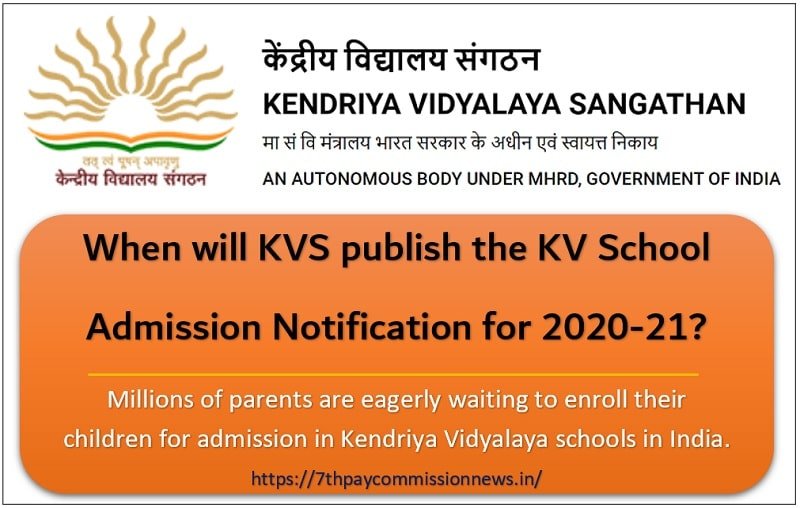 Last year the online registration for class 1 admission in all KV schools was completed on 19 March 2019. But, this time not yet announced the date schedule.
On 3 March 2020, the Kendriya Vidyalaya Sangathan (KVS) intimated regarding the admission schedule for the academic session 2020-21 through on official order that some essential changes/modifications in KVS Admission Guidelines are underway. Therefore, the admission process shall be started after such changes/modifications are effected in KVS Admission Guidelines. KVS will issue detailed instructions/guidelines very soon in this regard.
Even after two weeks of the intimation published by the KVS, there will be no signal to start the registration for class 1 admission in more than 1200 Kendriya Vidyalayas in India. We expect the official announcement for the admission process of the current academic session will be made soon!
The quality education, experienced teachers and minimum fee structure are the more attractive features to select the KV school.
We just recollect the procedure and date schedule for KVS admission in Class 1, Class 2, Class 3, Class 4, Class 5, Class 6, Class 7, Class 8, Class 9, Class 10, Class 11 as follows:
Schedule for Admission and Admission Notice
The first official notification on the schedule for admission for the academic session 2019-20 has been published on 4 February 2019 by the Deputy Commissioner of Kendriya Vidyalaya Sangathan.
Online Registration for Class 1: 1 March 2019 to 19 March 2019
Declaration of Provisionally Selected List for Class 1 and Admission for Class 1:
1st List 26 March 2019
2nd List 9 Aril 2019 (if seats remain vacant)
3rd List 23 April 2019 (if seats remain vacant)
Online Registration for Class 2 to Class 10: 2 April 2019 to 9 April 2019
Online Registration for Class 11: Within 10 Days after declaration of Board results.
Admission Guidelines 2019-20
Kendriya Vidyalaya Sangathan published the detailed General Guidelines, Special Provisions and Admission Procedure for the academic year 2019-20 on 28 February 2019.