Compassionate Appointment Latest News 2020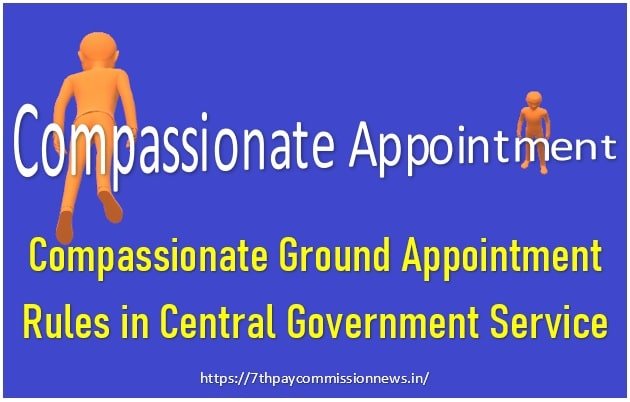 What is Compassionate Appointment?
If a Government Servant dies in service, compensation to the deceased family from financial destitution.
Who is eligible for Compassionate Appointment?
Spouse
Son (including adopted son)
Daughter (including adopted daughter)
Brother or sister in the case of unmarried Government servant
What is the age limit for Compassionate Appointment?
Upper age limit could be relaxed wherever found to be necessary. The lower age limit should, however, in no case be relaxed below 18 years of age.
Age eligibility shall be determined with reference to the date of application and not the date of appointment;
Authority competent to take a final decision for making compassionate appointment in a case shall be competent to grant relaxation of upper age limit also for making such appointment.
FAQ on Compassionate Appointment in Central Government
Whether 'married son' can be considered for compassionate appointment?
Yes, if he otherwise fulfils all the other requirements of the Scheme, he is otherwise eligible and fulfils the criteria laid down in this Department's O.M. dated 16th January, 2013 [Click to view in details]
Compassionate Appointment in Central Government Services | Compassionate Appointment in Railways | Compassionate Appointment in CPSE | Compassionate Appointment in Ordnance Factories | Compassionate Appointment in Public Sector Banks
Consolidated Instructions on Compassionate Appointment – DoPT Order Dated 16 January 2013 – Download PDF
Compassionate Appointment Rules in Central Government 2019
Compassionate Appointment Rules in Central Government 2020
Compassionate Ground Appointment 2019
Compassionate Ground Appointment 2020
Compassionate Appointment in Postal Department 2019
Compassionate Appointment in Postal Department 2020
Compassionate Appointment in India Post
Compassionate Appointment Circular 2019
Compassionate Appointment Circular 2020
Compassionate Appointment in Tamilnadu 2019
Compassionate Appointment in Tamilnadu 2020
Compassionate Appointment in Education Department
Compassionate Appointment Latest Judgments
Compassionate Appointment Circular:
Dopt Orders on Compassionate Appointment
DoPT Circulars, Notifications and Orders from 2014 to 2018
Click the Year and Read All Orders, Notifications and Clarifications issued by DoPT