The Secretary-General of Confederation of Central Government Gazetted Officers Organisation Bhaskar Bhattacharya requested the Central Government to shut government offices up to March 31 in order to prevention to contain the spread of the novel coronavirus (Covid-19).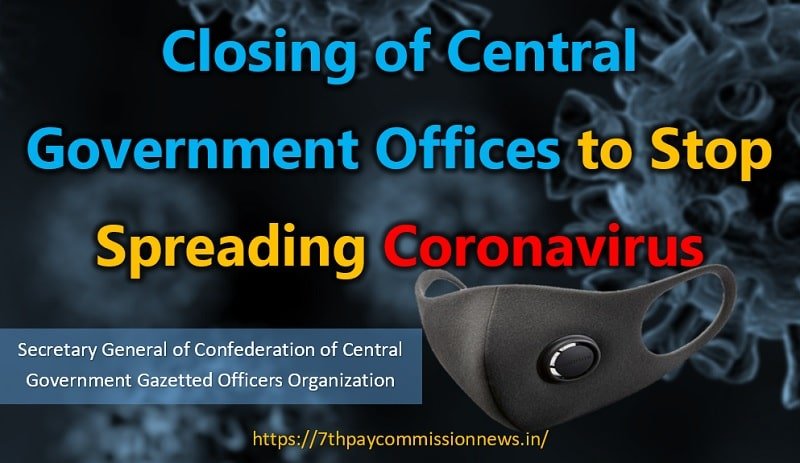 The organization writes a letter to Prime Minister Modi on 18 March 2020 to consider the option of closing Central Government Offices across the country up to 31 March 2020 or any other date.
In the letter, he said that as a guiding measure, DoPT has also issued a detailed advisory for the Central Government offices. In many Central Government Departments, administrations are definitely trying their best to extend all possible support to the employees as per Government guidelines, but several Central Government offices across the country are still lagging in this regard. However, such efforts will only partially address the huge risk of posing to the employees.
Stay connected with us on our
Whatsapp Channel,
to receive the most up-to-date news and updates.
The Secretary-General said that being the workers in public office, it is not possible for the Central Government employees to maintain social distancing while in office. Most importantly, more than 98% of the employees have to commute to the office using public transport at a time when the Government advisories are suggesting to avoid public transport as far as possible. Despite certain measures being taken in the office, our employees thus remain vulnerable to infection due to commuting in public transport to attend office and other unavoidable interactions in the office.
Bhattacharya requested to consider the option of closing Central Government offices (excluding those providing essential services and/or engaged in the country's present fight against the disease outbreak by any means) across the country till 31.03.2020 or any other date, as deem fit. We believe that it will be an appropriate step in the greater public interest including ensuring the safety and well being of the Central Government employees.
Read: Coronavirus (COVID-19) – Preventive measures for Central Govt Employees – DoPT
Read: Coronavirus: Biometric Attendance Temporarily Stopped in Central Govt Offices