7th Pay Commission Allowances: List of 197 Allowances – Modified, Retained and Abolished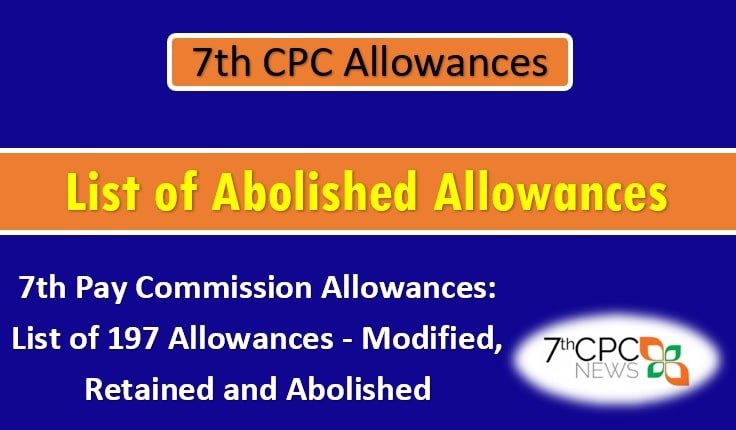 7th Pay Commission List of Abolished Allowances
Various types of allowances in salary slip for CG employees according to their posting of places and designation. The salary slip format almost the same in Central Government Services. All allowances including supplementary allowance, special allowance, management allowance in salary are indicating as applicable. Most of these types of allowances are providing in private sectors only. The allowances are giving a boost the employee talent and dedication.
Allowances are providing for employees on welfare purpose only.
7th pay commission has recommended to abolish 52 allowances in its report.
7th CPC Allowances Committee Report
Among the total of 197 allowances, 52 Allowances has been abolished by the Government as per the recommendations of 7th Central Pay Commission…
List of Abolished Allowances in 7th CPC
| | |
| --- | --- |
| 4 | Air Despatch Pay |
| 5 | Air Steward Allowance |
| 11 | Assisting Cashier Allowance |
| 12 | Accounts Stock Verifiers (ASV) Allowance |
| 18. | Breakdown Allowance |
| 28. | Coal Pilot Allowance |
| 30 | Command Allowance |
| 31 | Commando Allowance |
| 32 | Commercial Allowance |
| 36 | Condiment Allowance |
| 41 | Court Allowance |
| 42. | Cycle Allowance |
| 48 | Desk Allowance |
| 50 | Diet Allowance |
| 54 | Electricity Allowance |
| 55 | Entertainment Allowance for Cabinet Secretary |
| 56 | Entertainment Allowance in Indian Railways |
| 60 | Family Planning Allowance |
| 67 | Flying Squad Allowance |
| 69. | Funeral Allowance |
| 73 | Handicapped Allowance |
| 76 | Headquarters Allowance |
| 85 | Hutting Allowance |
| 90 | Investigation Allowance |
| 97 | Language Reward and Allowance |
| 98. | Launch Campaign Allowance |
| 104 | Metropolitan Allowance |
| 111 | Night Patrolling Allowance |
| 119 | Organization Special Pay |
| 115. | Official Hospitality Grant in Defence forces |
| 117 | Operation Theatre Allowance |
| 124 | Out-turn Allowance |
| 137 | Rajdhani Allowance |
| 140 | Rent Free Accommodation |
| 142 | Risk Allowance |
| 145 | Savings Bank Allowance |
| 147 | Secret Allowance |
| 149 | Shorthand Allowance |
| 154. | Space Technology Allowance |
| 158 | Special Compensatory (Hill Area) Allowance |
| 160 | Special Department of Telecom (DOT) Pay |
| 165 | Special National Crime Records Bureau (NCRB) Pay |
| 167 | Special Scientists' Pay |
| 169 | Spectacle Allowance |
| 171 | Study Allowance |
| 176 | Sumptuary Allowance in Training Establishments |
| 177 | Sumptuary Allowance to Judicial Officers in Supreme Court Registry |
| 186 | Training Stipend |
| 189 | Treasury Allowance |
| 194 | Vigilance Allowance |
Allowances recommended to be Abolished by the 7th CPC. After Allowance Committee report, a comprehensive list of 53 abolished allowances indicating status in terms of whether demands have been received or not is as under:
7th Pay Commission Allowances: No demands received on these allowances:
1. Air Dispatch Pay
2. Air Steward Allowance
3. Assisting Cashier Allowance
4. ASV Allowance
5. Command Allowance
6. Commando Allowance
7. Condiment Allowance
8. Court Allowance
9. Desk Allowance
10. Diet Allowance
11. Electricity Allowance
12. Entertainment Allowance for Cabinet Secretary
13. Entertainment Allowance in Indian Railways
14. Flying Squad Allowance
15. Handicapped Allowance
16. Hutting Allowance
17. Metropolitan Allowance
18. Official Hospitality Grant in Defence forces
19. Organization Special Pay
20. Out-turn Allowance
21. Rajdhani Allowance
22. Rent Free Accommodation
23. Secret Allowance
24. Shorthand Allowance
25. Special DOT Pay
26. Special NCRB Pay
27. Spectacle Allowance
28. Sumptuary Allowance in Training Establishments
29. Sumptuary Allowance to Judicial Officers in Supreme Court Registry
30. Training Stipend
31. Vigilance Allowance
32. Study Allowance
7th Pay Commission List of Allowances on Demands Received
Breakdown Allowance
Cash Handling Allowance
Coal Pilot Allowance
Commercial Allowance
Cycle Allowance
Family Planning Allowance
Funeral Allowance
Headquarters Allowance
Investigation Allowance
Language Reward and Allowance
Launch Campaign Allowance
Night Patrolling Allowance
Operation Theatre Allowance
Overtime Allowance (Abolished for certain categories)
Ration Money Allowance (Abolished for certain categories)
Risk Allowance
Savings Bank Allowance
Space Technology Allowance
Special Compensatory (Hill Area) Allowance
Special Scientists' Pay
Treasury Allowance
List of Additional 9 Demand Received Allowances
Committee has recommended that the recommendations of the 7th CPC in respect of the 32 allowances where no demands have been received, may be accepted without any change. In addition, 9 allowances where demands were received and no change is proposed in the recommendations of the 7th CPC, is as under:
Commercial Allowance
Family Planning Allowance
Headquarters Allowance
Investigation Allowance
Language Reward and Allowance
Night Patrolling Allowance
Savings Bank Allowance
Special Compensatory (Hill Area) Allowance
Special Scientists' Pay